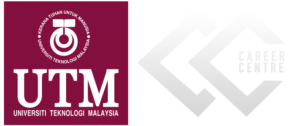 Career Carnival

is one of the University's official programs conducted by the Career Centre every year with a committee consisting of UTM students. The main objective of this carnival is to help students get industrial training placements or job placements before they graduate. 
The carnival involves participation from various companies and organisations to hold career fairs and share career information and job opportunities that they can offer to UTM students. Representatives from the industry are also invited to present information on the preparation and challenges faced in the world of careers. Thus, in addition to students having the opportunity to meet and interact with various companies to obtain more in-depth information about the company's background, they also have the chance to explore job opportunities and industrial training available. Through this carnival, interview slots are also provided to facilitate the industry to conduct recruitment interviews among students or prospective graduates of UTM.

CALLING ALL COMPANIES!
"Don't miss out on the UTM Career Carnival 2023, where you'll have the opportunity to meet and recruit some of the brightest students in the region. Be an exhibitor and showcase your organization to a diverse group of job seekers."
Click here to register your interest and our team will be in touch with you soon.